The New Instructor Portal Is Here
You asked, and we listened! The new Instructor Portal is an easy one-stop shop for all of your course administration needs! You can now enter courses and receive an IMMEDIATE response on approval. You can also cancel classes and close classes with no demographic information necessary. Interested individuals can now register to become an instructor and receive immediate approval. We hope these upgrades help you to hold more courses in a more efficient manner. Take a quick tour of the portal and enter a new class!
Questions about StoptheBleed.org?
We recently sent you information on the new stopthebleed.org. We have heard from many of you about the ease and great look of the website, but can we answer any questions for you? We want to hear from you, and MAY feature your question on the website in our FAQ section. Send us an email, let's talk!
Have you checked out the new Stop the Bleed social media pages? Take a peek, leave a comment!
You can now follow us on:
Facebook (Stop the Bleed ACS)
Twitter (@StopthebleedACS)
Instagram (StopthebleedACS)
Share Your Stories
We aim to update our website often and are looking to include photos and stories from classes held around the world. Take some photos, fill out the media release form, and send them in. Any photos need a signed release form. Send your stories (and any media links) to stopthebleed@facs.org.
Class Statistics as of 12/31/2019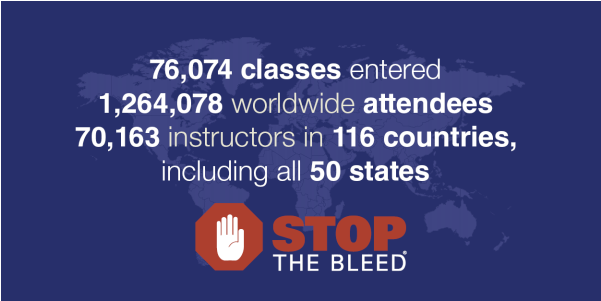 States with the Highest Number of Instructors
Texas (7,712)
New York (3,975)
California (3,281)
Pennsylvania (2,975)
Ohio (2,936)
Florida (2,488)
Illinois (2,231)
North Carolina (2,111)
Georgia (1,978)
South Carolina (1,866)
New Instructor Categories
The American College of Surgeons Committee on Trauma (ACS COT) has approved additional course instructor categories. We expanded the list of approved professions based on your feedback and new instructor inquiries.
Certified Athletic Trainer
Certified Registered Nurse Anesthetist (CRNA)
Dentist (DMD/DDS)
Doctor of Chiropractic Medicine (DC)
Doctor of Osteopathic Medicine (DO)
Doctor of Pharmacy (PharmD)
Doctor of Podiatric Medicine (DPM)
Doctor of Veterinary Medicine (DVM)
Emergency Medical Technician (EMT)
Emergency Medical Responder (EMR)
Medical Doctor (MD)
Military Medic/Corpsman
Nurse Practitioner (NP)
Nurse (RN/LPN/LVN)
Occupational Therapist (OT)
Paramedic
Physical Therapist (PT)
Physician Assistant (PA)
Registered Dietitian (RD)
Registered Pharmacist (R.Ph)
Respiratory Therapist (RT)
Ski Patrol
Sworn Law Enforcement Officer
TCCC/TECCC Instructor
We are excited about the expanded instructor categories and the increased ability to hold courses for the communities we serve! Please spread the word. New instructor approvals in our new categories begin TODAY!
Is Your Class Closed?
We currently have more than 13,000 classes that are NOT CLOSED. Please check the portal TODAY and make sure that all of your past classes are closed! This information is on the front page of your instructor portal and is integral to the program. Although we DO NOT require that you turn in rosters, we still need to know if your class was held, and who was in attendance.
Please close all courses within 7 days of holding your course. If the course is not closed, you will be contacted by staff.
Also… If you have courses that you previously taught, please enter those in the portal ASAP. We will review and approve those courses so they can be included in your instructor history.
Final Thoughts: New Year, New Goals
In October 2016, we didn't know how long it would take to teach 1,000,000 individuals to Stop the Bleed. Now, we have seen the impact of more than 70,000 instructors providing training to children, adults, teachers, medical staff, politicians, and community members. As an instructor, you have the power to impact your families, your workplace, and your community by teaching this life-saving skill. What is your goal this year? Who do you want to teach? Your goal may be to teach your entire block, your daughter's Girl Scout troop, or your parent's Garden Club. We challenge you to train 2,020 individuals and see how far your message can go. Start this month!